Dill Pickles Court Jester
AGS D-19635, NDGA 01605M, ADGA

Born: 4/15/02



SS: Piddlin Acres Blue Thunder - PGCH
S: Twin Creeks Thunder's Mercutio
SD: Twin Creeks Midsumernitedream - PGCH VG

DS: Twin Creeks BH Bay Watch
D: Twin Creeks BW Bear Cat
DD: Caesar's Villa STS Panda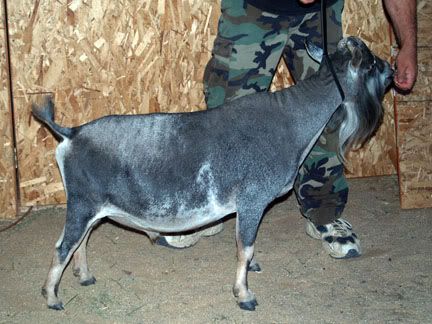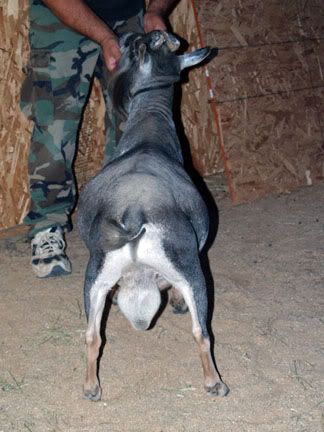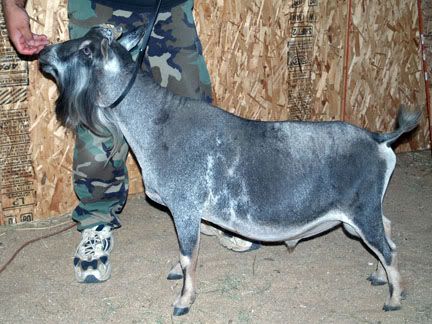 ---
*B Old Mountain Farm Triumph Tulip*S

ADGA, AGS

Born: 1/30/09



SS: PromisedLand CP Seymore Spots *S
S: NC Promisedland SS Hot Stuff *S
SD: GCH 1*M ARMCH PromisedLand CP Lil BoPeep*D E92

DS: Woodhaven Farms Neon Eclipse 'VG'
D: 1*M Old Mountain Farm Tulip *D 'VG' AR 2103
DD: Stonewall India Wilkes
Triumph is long and level with nice angulation. He should throw dairy character and beautiful capacious udders with lots of attachment. Thank you so much Cheryle for letting add this beautiful boy to our herd.
---
VVR Frankie - Sold - Kirk Clark - Barstow

ADGA, AGS

Born: 3/19/09



SS: Mystiques SG Blue Nuggett
S: Mystiques BN Como
SD: PGCH MYS DSO Tuscan Sun Blues

DS: Ponders End The Full Monty
D: Poppy Patch FM Starlett
DD: Sugar Creek's PG Jane Seymour
Frankie is black and white and has blue eyes. He has that nice uphill stance that is so desirable. He has a nice long body even though you can't tell it in these pictures since he is a little on the portly side.
---
DesertNanny BF Fire `n Ice

ADGA, AGS

Born: 5/06/09



SS: DesertNanny Jack Sparrow
S: DesertNanny JK BlueFlame
SD: DesertNanny Icy Blue Pearl *D 1*M VG, V

DS: DF Farms HD Barney Rubble
D: DesertNanny BR CornMaiden
DD: DesertNanny Icy BlueTailFly 3*D 3*M V
Fire `n Ice is a BlueFlame son. He is squarely built with a very nice front end and great feet and legs. He has width between the hocks and is a small boy with lots of dairy potential
---
Jocar-Farms Eoghans (pronounced Owens) Last Image

ADGA, AGS
DOB: 4/10/2008
SS: Flat Rocks Maestro
S: Flat Rocks Eoghan
SD: Flat Rocks Mainigh

DS: Big Enuf SL Image of the Moon
D: DC Miniatures Checkers
DD: PGCH Woodhaven Farms Alexa *D

EXTENDED PEDIGREE
We're hoping Image will pass the great udder genetics Flat Rocks is known for. He is nice and wide in the rear with good angulation to his legs.

Show Wins
6/5/2010 - Lost Valley Dairy Goat Association Show, Chino - Bob Barthalomew - 1st and Reserve Grand Champion
---
*Dallas Tyler Civil War

Born: 3/10/10

SS: MCH/CH Lost Valley KW Orion *S
S: Prairie Wood Huckleberry *S
SD: Prairie Wood Player 1*M *D

DS: +B Twin Creeks Icy Hot +*S
D: DesertNanny Icy Blue Cameo *D 88.3VG
DD: MCH Esperanza MB Vanilla Truffle
Civil War is long and level with beautiful angulation to his rear legs. We're hoping he will throw dairy character and beautiful capacious udders with lots of attachment.
---
Lil Roughnecks Fuddy Duddy

Born: 3/13/10

SS: DF Farms NH Every Day Hero
S: DF Farms EDH Captain America
SD: DF Farms FS Lunar Wax-N-Wane

DS: Sun Valley Elfin Magic
D: Adams Funny Farm Alexis
DD: Artist's Eye Espirit
Show Wins

5/31/10 - 2 RGCH Jr Buck - TMGC - (1 Restricted Leg)
~~~~~~~~~~~~~~~~~~~~~~~~~~~~~~~~~~~~~~~~~~~~~~~~~~~~~~~~~~~~~~~~~~~~

<!-We do not offer stud service at a rate of $100 for Cyclone, and $60 for any of our other bucks per doe bred. Boarding of does is available at $2.00 per day, and we prefer that does be brought either in heat or close to when they are expected to come into heat, as we prefer not to have more goats to take care of than already have. We do ask that your does be disease-free when they are brought for breeding, as we strive to maintain a clean and healthy herd. Does left for boarding must have proof of a recent (within 60 days) negative CAE test. No exceptions.->

In order to be fertile, goats need to have a good mineral balance in their systems, with the two most important minerals for fertility being copper and selemium. If your doe has a rough terrier-type texture of her coat, the liklihood of her settling is much lower, as this is a sign of mineral (usually copper) deficiency. Weak heats are also a sign of mineral deficiency. If the mineral balance gets better, heat signs are usually stronger. Another sign of copper deficiency is a lighter color coat, ie. black goat turning brown or a gold goat turning white. We use free choice Sweetlix Goat Minerals, a sheep and goat mineral will not work as there is no copper in it. We also copper boluse and Bo-Se (a selenium/vitamin E shot) a couple times a year.
---
Aura Acres Dairy Goats
PO Box 1142
Inyokern, CA 93527
(760) 377-3232
Email: stephanie@auraacres.com